Princess cut birthstone have earned their place as one of the most popular fancy gemstone shapes. The stone's sharp angles and clean lines bring a contemporary elegance to these engagement ring styles. Just the name screams royalty and shouldn't every woman feel like a princess?
Directions

One of the more popular fancy cuts besides the brilliant cut, the modern princess diamond is clean and modern, with 57 or 76 facets, and is described by Tiffany as "both elegant and dramatic. With its unusual diamond shape and dreamy name, the princess square is increasingly sought after by young women.

With the exception of the American Gemological Institute (AGS), most gemological appraisal organizations, including the GIA, do not grade the cut of fancy cut diamonds, which requires the consumer to have a more comprehensive knowledge of the cut of princess squares. The American Gemological Institute AGS princess cut diamonds are graded according to the following parametric criteria.
Meaning
The princess square diamond has also been given some extremely beautiful symbolic meanings: it is said that this diamond shape was specially created by the King of Belgium for his beloved daughter, for the four prongs of the diamond were given love, heart, cherished love, love symbolism, symbolizing happiness and beauty. At the same time, this diamond also represents the noble style of the royal family.
History
 In 1961, London diamond cutter Arpad Nagy created the 'profile' cut with 58 facets, which laid the foundation for the princess square; in 1971, South African diamond cutter Basil Watermeyer and his wife invented the 'Barion Cut' with 81 facets. In 1979, Betzalel Ambar, Ygal Perlman and Itzkowitz invented and patented the 'Quadrillion' cut with 49 facets, and the princess square cut took shape.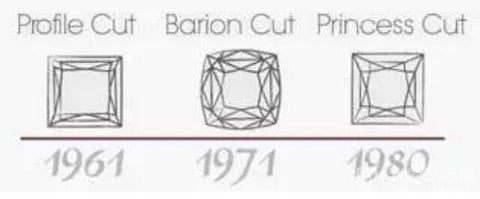 Benifit
The creation of the princess square cut has greatly improved the utilization of rough diamonds. Compared to the rough loss of around 40% for brilliant round cut diamonds, the Princess Square can keep the loss rate to less than 20%, which gives the Princess Square a great advantage in price.
For a better cut princess diamonds, the visual effect will be about 15% larger than a bright round diamond shape for the same weight.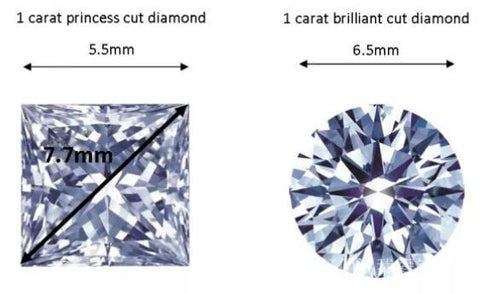 How to choose a princess cut engagement ring?

Similar to the Radiant Cut, the Princess Cut has a high degree of fire and sparkle, both of which enhance the color of the diamond to a degree that makes the inclusions in the diamond relatively unobservable. Therefore, when choosing a princess cut diamond, the lower limits of acceptable color and clarity levels can be relaxed.

However, different consumers do not have the same understanding of diamond clarity, some believe that as long as the naked eye is clean, while others seek to make the diamond relatively clean even under 10x magnification.
Set on getting a gorgeous gemstone ring? Check out our edit of princess cut  engagement rings for every style and budget.
Stunning graduated diamonds surround either side of a glistening center alexandrite is this timelessly elegant design
Princess cut engagement ring vintage peridot engagement ring moissanite rings for women solid white gold birthday gift peridot jewelry
Princess cut ring pyramid diamond bridal set rose gold ring 2pcs Alexandrite engagement ring set unique vintage ring custom jewelry gift
Buy on Willwork
Princess cut Alexandrite engagement ring 14k rose gold leaf art deco unique vintage style engagement ring moissanite ring for women jewelry
3pcs sapphire bridal ring set unique princess cut sapphire engagement ring set white gold vintage infinity diamond ring dainty for women
Buy on Willwork
This simple moissnaite engagement ring features a 7mm princes cut forever classic moissanite with half eternity diamonds ,the antique style moissanite ring is very famous worldwide and this design is one of our best selling. This moissanite bridal set is very unique since we can customized this to your preferred style or cut.
Buy on BBBGEM
1 Carat Princess Cut Moissanite Double Halo Engagement Ring Set Diamond Wedding Band
Buy on BBBGEM